Creative Ways to Spruce Up Your Narrowboat Garden
Do you aspire to become the next Monty Don or Alan Titchmarsh? It can be difficult to know where to start or how to incorporate a country garden whilst living aboard your narrowboat. However, it's now easier than ever to spruce up your boating garden with an array of containers and growbags to convert the externals of your boat. Discover our top tips below for creating your floral haven below.
Consider utilising your roof deck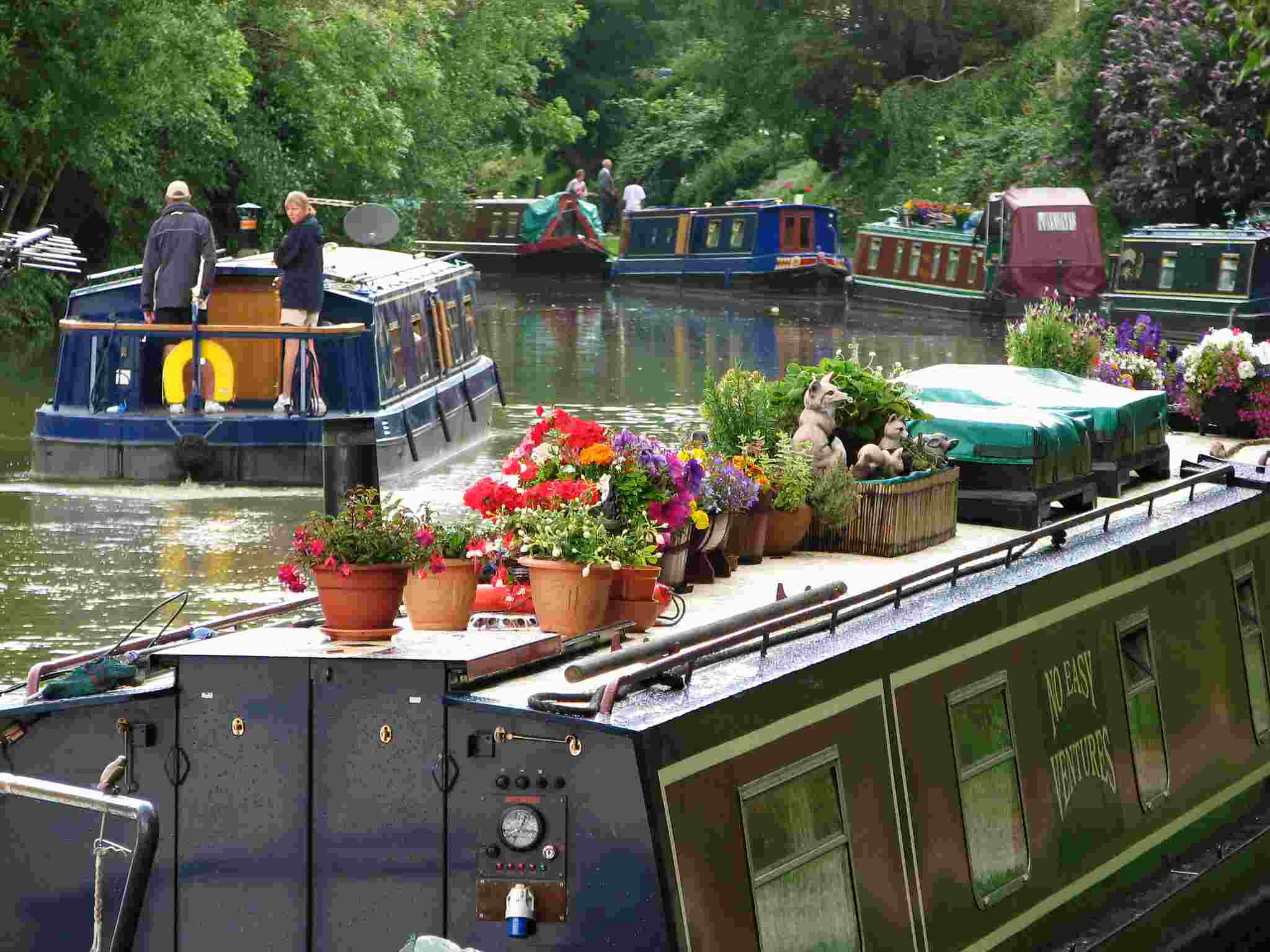 Source: Hans Splinter - (CC BY-ND 2.0)
Gardening on your narrowboat is a great way to reconnect with nature even whilst living aboard your vessel. No matter the size of your vessel, you're likely to have plenty of space to do it. The roof deck of your narrowboat can provide the perfect foundation for container gardening, enhancing the appearance of your boat with lush green leaves and colourful blooms.
Narrowboats are very exposed to the elements, so be wary of wind and heavy rain, you might want to consider choosing plants that can withstand ferocious weather conditions and ensure that you keep to a strict watering schedule to compensate for the drying effect of the wind. Even during heavy rain the water simply bounces off the leaves, meaning the soil often remains dry and can seriously affect the growth of your plants and flowers.
Growbags

Haven't heard of growbags before? Don't worry - they're about to become your best friend. Ideal for rooftop gardening, growbags are easy to find at local garden centres and are packed with compost and nutrients to aid with successful plant growth.
A handy tip to remember is to purchase a purpose-made tray for your growbags to sit on, and placing your tray on a piece of wood allows ample airflow underneath.
One thing to be aware of with container growing is you'll need to monitor growth on a regular basis and ensure the compost you choose has a slow-release fertiliser that feeds your plants throughout the season and prevents the leaves from drying out.
What should I grow?

What you choose to grow in your narrowboat garden is completely up to you, but one thing to be aware of is many flowers can be seasonal and will only bloom at certain times of the year. To ensure your garden is in full bloom year-round, you'll want to look at purchasing mainly evergreen plants so the leaves will remain, whilst the odd seasonal flower amid will add a pop of colour. Geraniums, in particular, provide vivid colours whilst helping to keep those pesky flies at bay.
A popular trait among narrowboat owners in recent years is starting your own fruit and vegetable garden on the roof deck. Anything from strawberries, to carrots, to potatoes have been known to thrive amongst these conditions and make for an excellent addition to your kitchen ingredients. However, it's important to remember that you should not use canal water when watering crops that will be consumed because it could infect them with waterborne parasites or contaminants.
Don't forget about your narrowboat interior

Whilst the roof deck allows you to utilise the space of your narrowboat to the full advantage, there are still places inside you can add some plants and flowers to brighten up your narrowboat interior design.
Any furniture in your living space, kitchen or bedroom can highly benefit from the odd plant or flower arrangement, as it slowly starts to bring the outside in and creates a cohesive design throughout.
Things to consider before starting

Whilst it's easy to get carried away in the excitement of your new pride and joy, it's important to consider the safety and practicalities of your flourishing new garden.
Important things to remember are:
Weight of containers on the roof - don't overload! Doing so can disturb steering and cause risk of your narrowboat overturning.

Height - allow for clearance under bridges and through tunnels.

Ropes - be careful not to snag your ropes or knock any pots off into the water.

Secure your pots - use grip mats and ensure your containers are tied in place to prevent your precious new cargo from tumbling overboard.

Protect your paintwork - using designated gardening tubs and growbags will reduce the potential for damage.
See one woman's journey to a narrowboat garden…
Header Image Source: Marathon - (CC BY-SA 2.0)
Related Articles
Jan 16, 2023
Enjoy your precious time out on the water, leisurely cruising, or permanently living. Canal boats...
Jan 16, 2023
Your narrowboat can go through a lot, especially if it is your permanent residence. From wear and...
Jan 16, 2023
The cost of living crisis has affected most households across the UK, whether that be on land or ...