Kayaking and Canoeing: The Best British Destinations for 2021
Trying to think of the perfect tranquil escape this season? Craving the freedom, peace and mindfulness that comes alongside the steady rhythm of kayaking or canoeing? Make your dreams a reality and paddle your way through our guide to the best destinations to explore in Britain.
There's something for everyone in England
Perhaps you've just taken up kayaking or canoeing or maybe you're a seasoned paddler but want to try some new routes. From National Parks to enchanting countryside beauty, England is bursting with some brilliant spots for all of your kayaking and canoeing needs! Here are a few of our favourites.
Lake Windermere, Lake District
You don't get more quintessentially English scenery than the Lake District. Right at the epicenter of this National Park you'll find Lake Windermere which thrives from its tourist scene and a multitude of water sporting activities.
It might surprise you to know that taking a trip on your kayak or canoe across Lake Windermere are two of the most popular activities for locals and tourists alike.
Jurassic Coast, Dorset
Visiting the majestic Jurassic Coastline is a must-see trip and what better way to see its picturesque landscape than paddling along the Dorset coast? Get involved with their on-site courses or explore the shores unassisted and spot the local wildlife along the way.
The Norfolk Broads, East Anglia
The Norfolk Broads offers an adventure for all. Experience the elegant flora and fauna the Broads is famous for when you paddle through its narrow waterways. Explore its inland rivers up close with little to no tidal movement that makes it easy for beginners to build up skills.
Source
Make a splash in Scotland
Long since known for its mythical, nature-packed landscapes, nothing sounds quite as relaxing as a few days spent kayaking or canoeing around Scotland! Here are some of the most magnificent spots for you to adventure in.
River Etive, Scotland
Take in spectacular sites on your way down the River Etive before meandering from Glen Coe towards Loch Etive. Are you the adventurous type? The journey along the River Etive isn't an easy one, the route is peppered throughout with grade four rapids and waterfalls. Though a magnificent route, we recommend only experienced paddlers should attempt the journey.
The West Coast of Scotland
Picture it. Glorious, craggy coastlines. Endless lochs and beautiful unspoiled islands. Where better to spend an afternoon paddling on your kayak or canoe? Here, you'll find some of the Western Isles' most breathtaking views, including the Isle of Skye.
Scottish Sea Kayaking Trail
Adrenaline seekers will understand the appeal of the Scottish Sea Kayaking Trail which spans more than 300 miles across some of Scotland's most scenic areas. Find yourself paddling through the Highlands and the cold waters of the Atlantic coast. If picturesque scenery and perfect paddling conditions are what you're looking for, then you can't go wrong!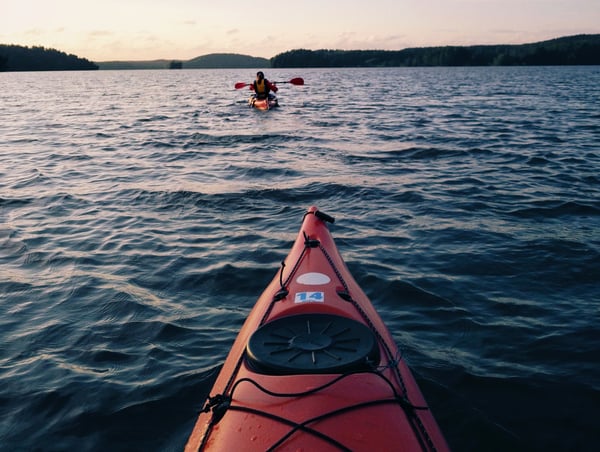 Source
Why not explore the waters of Wales?
With heavenly natural beauty at every turn from lush greenery to crystal clear lakes, Wales is the perfect spot from which to grab your kayak or canoe and indulge in a little peaceful paddling! We've narrowed down to our favourite Welsh routes.
River Teifi, Wales
Paddle through the ancient, awe-inspiring woodland scenery of the River Teifi all the way towards Cardigan Bay perched on the Welsh coast. This is a hugely popular route reaching 79km and is ideal for anyone looking to explore a large and prominent area of Wales.
River Wye, Wales
Fancy a five day paddle across 46 miles of thick, lush scenery? Kickstart your River Wye adventure in Glasbury for a slow and steady start to your trip before some heartracing rapids towards the final stretch. An excellent way to spend a week's break exploring the rich waters of Wales.
Snowdonia, North Wales
Go big or go home, we say! With breathtaking mountainous views, you'll find no better spot to visit than Snowdonia National Park. Begin your journey paddling on Llyn Padarn where you'll experience jaw-dropping views of its steep cliffs and golden beaches.
Considered to have one of the best sea kayaking in the world with luscious greenery, an abundance of wildlife and tropical-like views, visiting Snowdonia will be an unforgettable experience.
Source
Whether kayaking through some of Britain's most built up areas is your thing or getting back to nature and jumpstarting your adrenaline in some wild and wonderful spots is what you're seeking, there's a route to suit everyone!
Related Articles
Feb 17, 2021
Much like any sport, regular participation in water sports like kayaking, canoeing or paddleboard...