Paddle Board Safety Tips you Should Know
Paddle boarding is a great activity, not just for physical health but also mentally, it's a good way to relax and enjoy some time escaping the real world's stress and worries.
Whether you enjoy alone time or paddling with friends and family, you should be aware of all the necessary safety tips to ensure your time on the water is a smooth sail.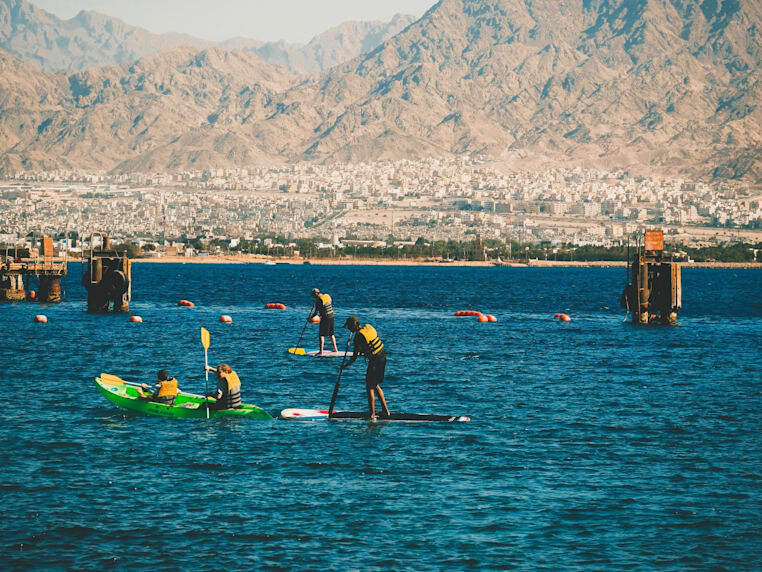 Paddle boarding is an amazing way to get everyone together, you can explore new places whenever you fancy. Just remember to follow our safety advice before getting out on the water…
Before going out on your travels, be sure to let someone know of your plan for the day. Let them know where you'll be and what time you expect to be home and if any plans change throughout the day, keep them updated. If something were to happen to you whilst out on the water, this ensures somebody will come searching for you if they haven't heard from you after the time you were supposed to be back.
Have the right safety gear
Ensure you have all the necessary safety equipment, including your leash. This helps you stay afloat if you get blown offshore or you become injured, remember to check your leash is intact before heading out on your paddle board. You should also never get out on the water without your PFD, whether that's an inflatable waist or chest PFD or a full vest PFD, it's important that you know how to inflate your it beforehand. Having a GPS locator or working phone will help you get back if the weather turns bad or you get blown offshore and can't find your way back.
Check the weather and current conditions
Before heading out on your adventure, check the weather forecast and current conditions, if you the weather looks like it could turn bad and might be risky, our advice is to reschedule for another day - it's always better to be safe than sorry!
Related Articles
Feb 17, 2021
Much like any sport, regular participation in water sports like kayaking, canoeing or paddleboard...
Jun 18, 2018
How to get Amazing Discounts on your Paddle board Equipment
Topics- Discounts, Stand Up Paddleboard, MyBoat