12 Things You Need to Know Before Buying A Second-Hand Boat
Buying a second hand boat has plenty of advantages over buying brand new – presuming it has been well looked after, any teething problems and niggling issues will have been sorted, like squeaky rigs and loose cleats. You can also get great value for money, but it's still likely to be a big investment and there are some things you need to take extra care with when buying a used vessel.
Here are 12 bits of advice we think you need to know before signing on any dotted line or handing over any cash for a used motor yacht or boat.
1. Ensure that the seller actually owns the boat. The last thing you want is to purchase a boat that wasn't the vendor's to sell. There could be outstanding unpaid mortgagees, boatyard charges or mooring fees that you will now be responsible for. Before signing anything, check that the boat hasn't been reported as stolen and that the vendor has all of the relevant documentation to support their claim of ownership. Boats that are 20 years or older may not have a full set, but should still have a bill of sale and mooring receipts.
Consider buying through a broker that's a member of the Boat Retailers and Brokers Association (BRBA) or Association of Brokers and Yacht Agents (ABYA), as they have to provide relevant paperwork and offer more protection. As a general rule of thumb, the bigger the vessel, the more likely there'll be a complicated ownership history.
2. Key documents to check for:
Boat title documentation (Bill of Sale, transferral of legal title)

Boat registration certificates (UK-based will be the Small Ships Register and Part 1 Registration)

Builder's certificate (to confirm name/address of first owner, Hull Identification Number, year built, yard number) = prove boat's age

The original receipted VAT invoice
3. Knowing the owner history of the boat is essential for VAT purposes. Privately owned boats used by EU residents within EU need VAT to be paid - you may need to provide evidence of this when in the EU, making it a very important document.
4. Do your research. When you find a boat you're interested in, price match it – is the boat at a similar value to others in the market? Is it too good to be true? Use selling sites like https://uk.boats.com/ , https://www.apolloduck.co.uk/, https://www.boatsandoutboards.co.uk/ – to evaluate its worth – factoring in things like equipment, condition and location. If you have a sound and valid understanding of how much your boat should cost, you can be in a better position to fairly haggle the price.
5. Separately to the cost of the boat - you also need to consider how much the boat is going to cost on an ongoing basis, taking into account things like maintenance, storage (ashore or in a marina) and insurance, that can vary massively depending on the age, type and size of the boat. So if the boat you've got your eye on is particularly cheap because it's ten years old, you should also factor in if it might cost you more to fix up.
6. Before enlisting someone to carry out a survey, check if your chosen insurance provider requires any specific checks to be carried out. A full condition survey (pre-purchase survey) is essential – select a surveyor that's part of a professional body like the International Institute of Marine Surveying to ensure they know what they're talking about. As well as checking the overall condition, they can advise on how to negotiate on price depending on any issues they find. Another key tip – don't accept a survey from the vendor or from your broker, as they may not give an unbias opinion.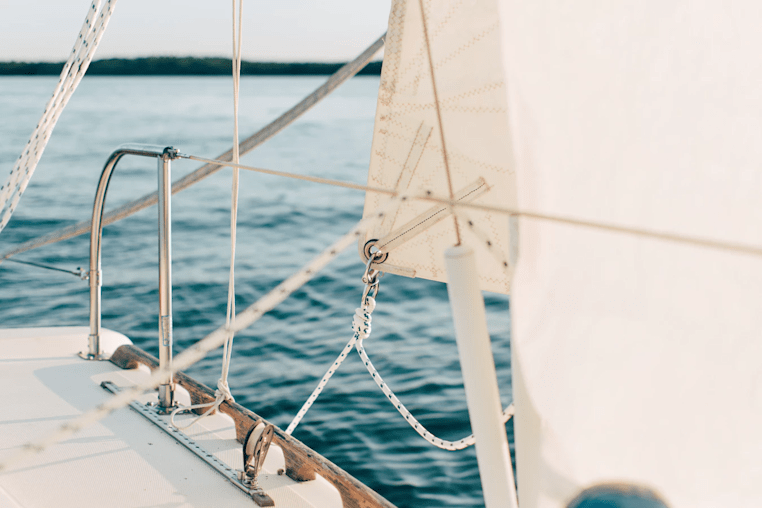 Source
7. Be nosy. Ask the seller plenty of questions – what are their reasons for selling? Has the boat had any major issues in recent history? Where has it been kept when out of use? How regularly has it been serviced? How many hours has the engine run?
8. Don't write off a boat that has a lot of hours on the clock. Obviously, the more hours on an engine increases the overall likelihood of it needing significant work in the near future. Whilst lower is better, the way the boat has been used can make a big difference – a boat that's got 400 hours but has been well cared for is better than one with 100 hours driven aggressively. Arguably, a boat that has high hours demonstrates it's a great boat that's been used and loved.
9. Be extra nosy. Usually, when you go to view a boat it will be at the boatyard, marina or docks where it's kept. Once you've viewed the boat and if you're still interested, it's worth asking around to confirm with the operators there if there are any outstanding bills.
10. Exchange legitimate contracts. Members of the RYA have access to a template for private sales, or a broker will have access to this or one from the Association of Brokers and Yacht Agents (ABYA) The contract will allow a two week grace period where a survey can be carried out. If the survey reveals and major defects that the purchaser or vendor wasn't aware of, the sale can be cancelled.
11. Don't put down a deposit unless you use a broker, as it can be difficult to get back should anything go awry. Even if you find a boat privately, you can then approach a broker to handle the paperwork and they should charge less than their usual rates.
12. Know what you're buying. Is your offer subject to a sea trial? Have you seen and agreed to all of the equipment that is going to be included in the sale? It might be down on paper that the purchase includes charts, outboards and sails – but if they're in poor condition then they're not worth the bother, so it's vital that you inspect the inventory that's listed as part of the sale. There may also be items you assumed were included that have been removed since you viewed the vessel.
Related Articles
Apr 13, 2023
Even though setting out on your motor cruiser may be a great way to put your phone down, scroll l...
Apr 13, 2023
The UK offers a wide variety of amazing locations and activities to explore. No matter what you e...
Apr 13, 2023
Are you searching for somewhere to store your motor yacht? Look no further, below is a round-up o...