Spotlight on Urban Truant
Who are Urban Truant?
Based at Swanwick Marina, Urban Truant is the UK's leading RYA sail and powerboat training schools. They offer everything from online courses in the comfort of your own home to practical training in a yacht or motor cruiser, equipped with the latest IT and learning aids. With thousands of successful students located across 99 countries, you can learn all you need to master navigating the waters with their written and practical exams.
Partnership with Urban Truant
Here at GJW Direct, we're dedicated to giving our customers access to exclusive benefits, that's why we've partnered up with various marine brands to give you money off your next purchase. By signing up to our digital organiser MyBoat, you can receive 20% off Urban Truant courses.
Featured services

Source: Urban Truant
Take full advantage of the courses at your disposal with Urban Truant who can help you become a sailing master with their online and practical courses.



Are you a beginner looking to gain some insight into what it takes to be a sailor out at sea? Urban Truant's online Skipper course allows you to gain the basic knowledge needed for navigation and seamanship, whilst simultaneously understanding how to remain safe at sea.

This course allows you to gain the confidence to explore tranquil anchorages and foreign destinations, whilst giving the option of a practical exam to further build your skills and knowledge.

Ever worried about being stranded at sea without the knowledge of how to make a distress call from your VHF radio? Don't worry! At Urban Truant, you can take The Short Range Certificate to bring you up to speed on how your radio works and avoid any unfortunate situations whilst out to sea. Not only that, but you'll gain knowledge on how a marine radio can be fitted with Digital Selective Calling (DSC) functionality.



Looking to fastrack your sailing skills? Urban Truant's Yachtmaster course provides you with everything you'll need to succeed, from basic sailing skills to advanced navigation worldwide. Taking this course will also provide you with the relevant skills for The Short Range Certificate.
June 2021 Prize Draw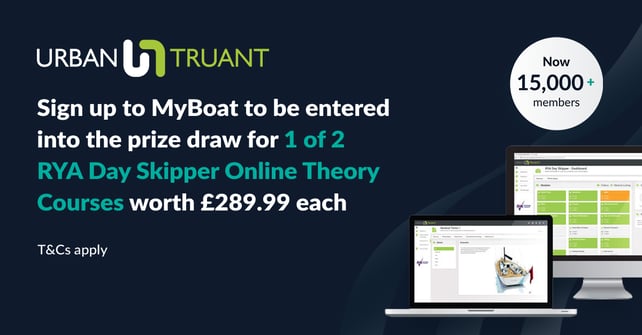 In case you didn't already know, we're running a prize draw during the month of June for two lucky winners to receive 1 of 2 RYA Day Skipper Online Theory Courses worth £289.99 each!
All you have to do is sign up to MyBoat, your FREE digital organiser designed for storing all of your boating documentation in one safe, easy-to-use place. Not only that, but you can set custom alerts for when your insurance needs renewing or reminders to service safety equipment. GJW Direct customers also have access to a number of discounts from recognised marine brands such as Urban Truant, Sailing Chandlery and Yachts and Yachting.
Header Image Source: Urban Truant
Related Articles
Jul 26, 2022
"If I want to enjoy racing, do I have to spend a lot of money on a new boat and join an arms race...
Topics- Events, GJW Direct, Yacht, Boat Shows, Classic Boats, yacht clubs, uk, South Coast, Sailing Yacht, Sponsorship, Yacht Racing
Jun 10, 2022
Thanks to modern technology, we've mastered the ability to access any source of information via o...