"If I want to enjoy racing, do I have to spend a lot of money on a new boat and join an arms race?" No! Just ask the hundreds of people who came back to Cowes this year for Cowes Classics Week.
Cowes Classics Week embraces a wide range of yachts and different types of racing but the competitors all want the same thing. Fun! Fun both on the water and shoreside.
Corinthian spirit
The ethos of the regatta is distinctly Corinthian. It's a very friendly regatta and you will often see one crew helping another to get back onto the race course after a mishap. Fortunately, mishaps were minimal this year, with lovely sailing breezes allowing racing on all five days. This year, thanks to sponsorship from GJW Direct, there were three windward/leeward race circuits for the one-design fleets and round-the-cans handicap racing for the larger yachts. The "Spirit of Cowes Classics Week" trophy was this year awarded to the owner of yacht Janessa who brought a crew averaging under 21 years of age and performed well. Notable also were the activities of the official charities Autism on the Water and UKSA, both of which make sailing possible for less fortunate people.
Beautiful yachts
Many of the yachts are stunning to behold. Meticulously maintained by their proud owners, they create quite a spectacle for the other competitors. Among the oldest this year was Alberta, an East Coast oyster smack, built in 1885, worked hard for many years and restored to her former glory earlier this century. The Concours d'Elegance trophy this year was won by Cynthia, the beautiful Classic Mermaid from Seaview.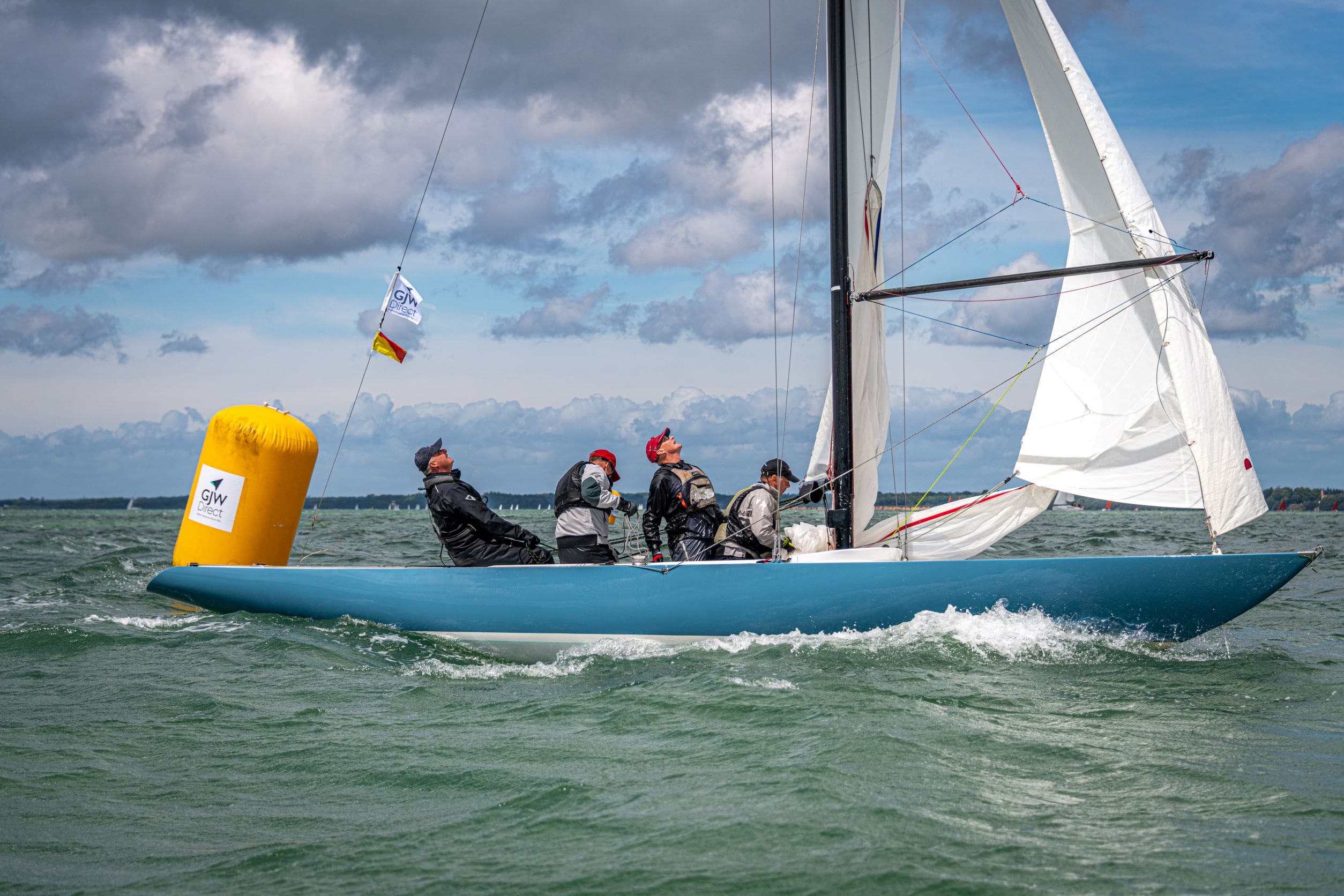 Image by Tim Jeffreys
Club-based social programme
Just as important as the racing itself is of course the shoreside activity. Despite the popularity of the event, the organisers have been able to maintain a club-based social programme, involving all the yacht clubs in Cowes. The Opening Reception and daily post-racing tea and cakes were served at the organising club, the Royal London Yacht Club. Wristband events before dinner ranged from drinks on the pontoon to a drinks reception at the Royal Yacht Squadron and daily prizes were handed out each time. Dinners in the evenings ranged from a hog roast to a more formal dinner and all were held at the various yacht clubs around Cowes.
Cowes Classics Day
Adding to the classic appeal of the regatta, Cowes Classics Day, run on the day before racing starts, saw sixty classic cars and vintage buses on display outside the RLYC. Of particular interest this year were a Rolls Royce 20/25, an Aston Martin DB2/4 and a Ferrari 365GTC "Daytona". The very elegant gentleman's motor yacht Lilian was also on show, built over 100 years ago and one of the first to have electricity onboard.
Why not join in?
If your yacht was designed fifty or more years ago, why not join in the fun next year? It doesn't matter when it was built, just when it was designed, and even then, there are some exceptions for iconic classics. Take a look at this year's website for more information. The dates for 2023 have been announced as 8th to 14th July, with Cowes Classics Day on Sunday the 9th and racing from Monday to Friday. If your yacht insurance doesn't cover racing risks today, you know who to contact for a quote!
Giles Peckham
Royal London Yacht Club
Related Articles
Feb 15, 2022
Racing is back and in full swing this year! So we wanted to highlight some of the top events you ...
Oct 7, 2019
If you're into your sailing events, then you'll want to make sure you check out our 2019/2020 cal...