Summer PWC tips for safety in the sun
Sunbeams on your face and a warm breeze in your hair, are the moments we can't wait for. Taking your personal watercraft out any time of the year is a fantastic experience but in the summer, even more so. Whether for a day out with friends or family or even a solo trip, you will make memories to last. Summer is on its way and we want to make sure you enjoy every moment of it, whilst staying safe out on the water.
Wear sun cream
On most days, it would be wise to wear sun cream to protect your skin. Especially, if you are planning to spend a lot of time out on the water. Doing so can prevent you from burning and spoiling the next few days. Even if it doesn't feel that sunny, strong UV rays can penetrate clouds and still cause you to burn. Keep applying throughout the day for maximum protection even if your sun cream says it's waterproof, consider reapplying if you've dried yourself off as this can also take off your sun cream. You should also consider wearing protective clothing such as sunhats and sunglasses to stave off any burning.
Boat insurance
Accidents can happen and things don't always run as smoothly as you may hope. Taking precautions can help to minimise the effects of unplanned situations, as much as possible.
At the moment, there is no Act of Parliament that requires a personal watercraft rider to be insured. However, the majority of launch sites say it is necessary to have third party liability insurance. This type of insurance covers you if you accidentally damage another person's PWC, property or injure someone. As well as this, comprehensive insurance will also include 0% finance (on policies over £100), theft cover, medical expense cover and transit and tailor cover. Looking for boat insurance? GJW Direct's PWC insurance includes all of this and more.
Avoid speeding on your PWC
Speeding is a key cause of accidents. Allowing you to get too close to other personal watercrafts, speeding can make it difficult to stop efficiently. When riding, ensure that you leave enough space between yourself and other riders, so it gives enough time to stop safely when needed. Speeding and driving recklessly can cause serious accidents, by simply taking precautions, you can help make sure that everyone, and their property, is protected. Whether you're heading into land or out into the water, always maintain a slow speed until you're in a clear area, away from the shore.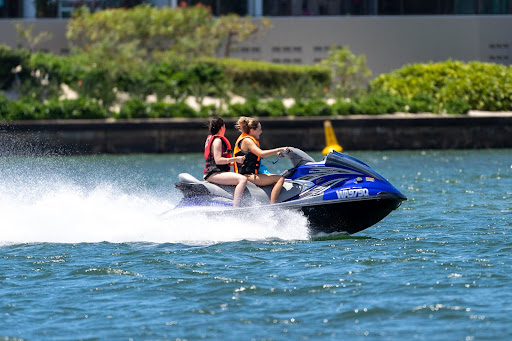 Source: Pexels
Keep safe and know your stuff
When out on the water, there are a number of things you can do to ensure you're safe at all times. Having a first aid kit is a must for any water venture as the one time you don't pack it will surely be the one time you need it, better safe than sorry. Make sure you know and understand all operational features of the craft you are riding and don't overload your vessel, take a look through the operational guide for your PWC before taking it out so you're up to speed. It's also worth having a look at things like the weather conditions and the local boating laws for the waters you'll be operating in.
Keeping track of when your life jackets are due a service, should you need one for your craft, is also important to maximise safety. MyBoat, a digital boating management system, allows you to set reminders for lifejacket services, as well as any other safety equipment you may have. Sign up to MyBoat today.
Be mindful of those around you
Lastly, don't forget to be kind and careful of others out on the water as well. This way everyone will have much more fun and a memorable day out on the water. Be considerate of others by avoiding wake jumping, splashing and passing close to any other vessels. If you can, try to stay in sight of the shore, but avoid operating too close to residential and congested areas. Stay clear of any restricted areas and obey all posted and navigational signs for your own safety.
By following these summer PWC safety tips, you will be sure to have a fantastic few months in the sun.
Related Articles
Apr 20, 2023
Jet skiing can be an addictive hobby once it gets its hooks into you. Many passionate jet skiers ...
Apr 20, 2023
Electric jet skis are here and are already beginning to filter into the market. If you are consid...
Apr 20, 2023
Jet skiing has been a beloved watersport for many decades, attracting adventure enthusiasts and t...