The best jet ski locations to ride the waves in the UK
Are you looking for the perfect location to hit the waves this summer? We've shortlisted our favourites, all of which have fantastic facilities and beautiful landscapes to explore.
It goes without saying that before heading out anywhere, you should check the specific location's rules and regulations - you should know whether you need a permit or whether there are any restricted zones to be aware of before going jet skiing in the UK.
New Brighton Beach, Wirral
If a Northern adventure is what you're after - New Brighton Beach is a good suit. Onsite free parking and facilities such as first-aid, a solid slipway, toilets and disabled access makes taking to the waters that little bit easier. There are a number of other activities available, too, including fishing, swimming, boating, canoeing, and snorkelling - just in case you wanted to try something new.
When jet skiing at New Brighton Beach, there is plenty of area to explore. Head up-river and you'll find the renowned Liverpool Waterfront, set off in the opposite direction and you'll come across the Wirral Peninsula (home to other beaches such as Crosby and Formby). When launching, you don't need to worry about complexity, as you're able to drive your PWC right towards the launching area via the well-constructed slipway which is met by a wide concrete driveway. One point to note is in the summer months, you will need a permit to access the launch area. To have a permit issued, you must have documented proof of RYA PWC Proficiency Course completion and insurance policies for both your jet ski and towing vehicle.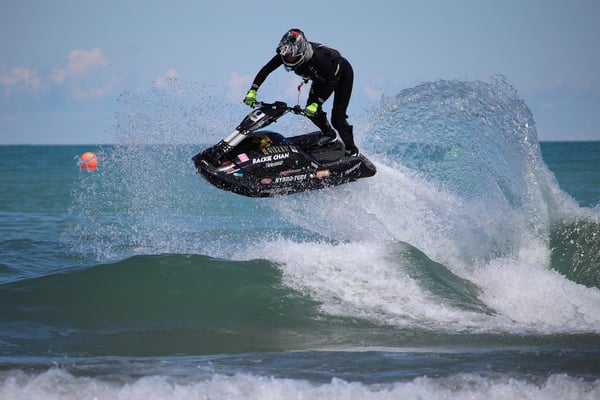 Abersoch, Gwynedd
Arguably one of the busiest beaches on the Llyn Peninsula, Abersoch is known for its trendy town, colourful beach huts and 18-hole golf course. The popularity of the bay sees a number of watersports enthusiasts, with a peaceful entertainment for those relaxing on the sand. Abersoch is the perfect location for a PWC user, being home to the two St Tudwal Islands, you can spend the day exploring the rocky edge - keep and eye out for Bear Grylls, as he owns the west island...
If not in high tide, you'll need to push your jet ski to the water since the slipway is not accessible to use when the tide is low. Due to the busyness of the beach, parking spaces disappear pretty quickly so it's advised to arrive early, especially in summer when it's peak season for holidaymakers. The trailer park is located at the entrance to the beach, charges are included in both seasonal permit prices and local daily fees.
If you're looking for a less 'high-profile' spot - there is a second slipway closer to Bwlch Tocyn however the access point is shorter and more narrow and therefore is not the easiest launch site. This side of the bay is a little more rocky so be wary of potential hazards.
Falmouth, Cornwall
Head to Cornwall's popular marina hotspot, with waterfront restaurants, shops and pubs set aside local galleries and chandleries about boat specialists. It's the perfect location to hit the waves, followed by a trip into town.
Known for having the most accessible public slipway in the area, being modern and well-maintained, it's the ideal spot for an easy launch. Falmouth Haven allow jet skis to be launched in the water sports area of Falmouth Bay and within a certain area of Carrick Road, for more information on the restricted areas see here. It's important to note that in order to launch your jet ski, you'll need an annual Falmouth Haven permit, valid for 12 months and costing £5.
Don't worry about booking ahead - simply turn up. In the summer months, there will be a marshall at the entrance accepting payments. In the winter time, you'll need to head to the Falmouth Haven office, situated 100m up the road into town.
Menai Bridge, Anglesey
Known as the world's first iron suspension bridge, Menai Bridge is an ideal location for all jet skiers. With there only being a short walk from the town centre to the base of the bridge - it's a great place to explore both off and on land. In the town you'll find a selection of little local shops, pubs and restaurants.
Whilst out on your PWC, the coastline of Anglesey and the mainland is a scenic stretch to hit the waves, as well as access to both the Menai Bridge and the Britannia Bridge. You can head south towards the Llyn Peninsula or north to Llandudno's Great Orme.
The slipway is easily accessible with its wide concrete construction and free trailer park however it's worth noting during high tide, the trailer park is known to flood so be wary about leaving your trailer here during this time. Porth Daniel Watersports Company offers secure trailer parking as an alternative at a cost of £6 per day, and his located at the top of the slipway. Currents in the Menai Strait are particularly strong so take caution when launching.
Are you still unsure about where you want to ride the waves? Take our quiz to find the perfect location for you and your PWC.
Related Articles
Apr 26, 2022
Knowing how to tow a jet ski safely is an essential part of being a jet ski owner. It's important...
Apr 26, 2022
Are you new to the boating world and are looking for the best personal watercraft course to get y...
Apr 26, 2022
Losing your jet ski, having it stolen or having it fall off your trailer and damaged, is an incon...