The ultimate guide to the best UK marinas
With an abundance of fantastic marinas around the UK to choose from, it's difficult to know where to start on narrowing down the selection. We've picked out our top highlights from across the country, with a mix of both coastal and inland options. All the below boast an impressive five Gold Anchors as part of The Yacht Harbour Association audit scheme.
South of England
Brighton Marina, Brighton
Head to the UK's largest marina to soak up the vibrancy of this eclectic city. With masses of entertainment, its ideal for families or groups and provides the perfect base for water sporting fun. Tour the south coast, venture further to visit the beautiful channel islands or even cross the channel to take in continental France.
Falmouth Marina, Falmouth
Set within one of the crown jewel counties of British maritime, this Premier Marina port is situated within one of the largest natural deep-water harbours. With excellent facilities and a stunning view of the surrounding Area of Natural Beauty, you can't fail to find a better base for exploring the wonders of the Cornish coast.
North of England
Overwater Marina, Shropshire Union Canal
This idyllic inland marina, set in the heart of the Cheshire countryside, boasts a charming cafe, chandlery, workshop and of course the tranquillity of rural life. Set on the Shropshire Union canal, it's an ideal point from which to cruise this infamous route.
Church Minshull Aqueduct Marina, Nantwich
As a four-time winner of TYHA Inland Marina of the year, Aqueduct Marina this is another stunning site ideal for narrowboat owners. With dedicated on-site engineers and a range of storage facilities, it is a fantastic place to call home.
Wales
Conwy Quays Marina, Conwy
The North Wales coast is host to an array of magnificent beaches, habitats and scenery. Base yourself at Conwy Quays Marina to take in breathtaking Anglesey and the Llyn peninsular, with the backdrop of the Snowdonia Hills.
Penarth Quays Marina, Cardiff
The capital of Wales is home to this impressive marina in Cardiff Bay, with plenty to explore on land and at sea. This Quay Marina site benefits from friendly staff who are on hand 24/7.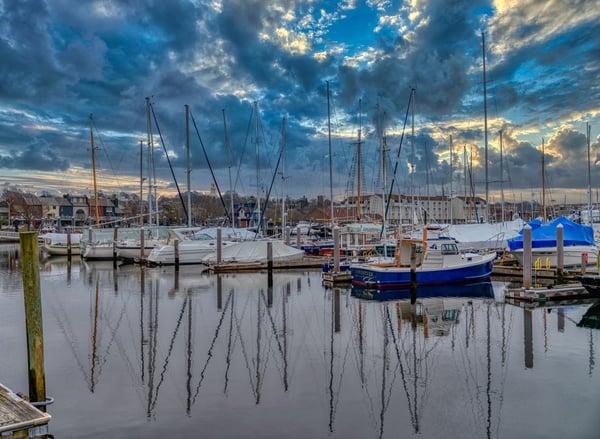 Scotland
Largs Yacht Haven, Largs
Within the stunning waters of the Firth of Clyde is this impressive marina, ideal for RIBs, Speedboats and Motor Cruisers with an integral dry slipway, with even 45-ton and 70-ton travel hoists. It is also home to Largs Sailing Club who hosts an array of exciting events through the year.
Portavadie Marina, Loch Fyne
With access to the spectacular sailing waters of the West Coast of Scotland, as well as the cruising route along the picturesque Crinan Canal, this man-made lagoon on Loch Fyne is truly unforgettable.
Northern Ireland
Bangor Marina, Bangor
Located on the south side of Belfast Lough, you'll be ideally poised for the Irish Sea cruising routes. The base is shared by the HM Coastguard's Marine Rescue Centre and the RNLI. This Quay Marinas location is well supplied with a friendly service and excellent facilities.
Carrickfergus Marina, Belfast
Situated on the opposite north shore of Belfast Logh, Carrickfergus Marina is plentiful in local amenities and sightseeing opportunities. It is a fully serviced site with advantages such as repairs, servicing and maintenance technicians, and lift out support.
Are you a current boat owner? Visit our online portal MyBoat where customers can enjoy exclusive offers and safely store all their boating information.
Header image source
Related Articles
Oct 1, 2020
With the rise of COVID-19 and the subsequent lockdown taking up most of our 2020, more than ever ...
Sep 22, 2020
When it comes to storing your boat, it's important that you take the necessary precautions to ens...