Things To Do Near 6 of Your Favourite UK Marinas
Owning a motorboat or a sailing yacht likely means you're familiar with marinas, as they are one of the most common places to safely store your vessel. With summer fast approaching, we're likely to see an increase in the number of boaters who opt to enjoy a UK staycation over a trip abroad.

But where exactly are the best places to visit for sailing enthusiasts? The UK is home to a number of marinas which give excellent access to a wide variety of sightseeing opportunities, as well as delicious seafood restaurants, all within a short distance of your chosen marina.

Ready to be inspired for your next boating holiday? We're here to give you insight on everything you don't want to miss when visiting these prominent UK towns and cities.
Brighton Marina, East Sussex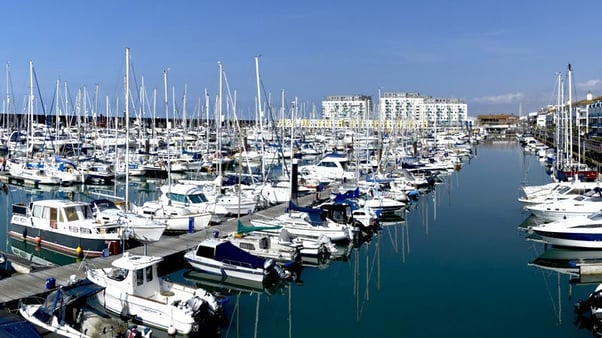 Source: Barbara van Cleve - (CC BY-SA 4.0)
One of the UK's best-known seaside cities, and home to Brighton Marina & Boatyard, owned by Premier Marinas, you'll find a wonderful array of local attractions you can visit.
The Brasserie Fish & Grill Restaurant
Located on Brighton's seafront, this seafood restaurant is only a short walk from the local marina and is the perfect spot to enjoy some classic English cuisine. You can dine alfresco with stunning views over the waterfront, sailing lovers will find this an exceptional spot to dine especially during the summer months.
Less than a few minutes walk from the marina, Brighton Beach is a classic attraction for a carefree day relaxing beachside. Not only that, but the area is well known for being an excellent place to engage in watersports, particularly kayaking and stand-up paddleboarding.
What is a relaxing holiday without stopping off at the golf club? With over 128 years of experience, this is an ideal way to appreciate the wonders of the South Coast countryside and views across the channel, whilst still enjoying the art of this sport.
Liverpool Marina, Merseyside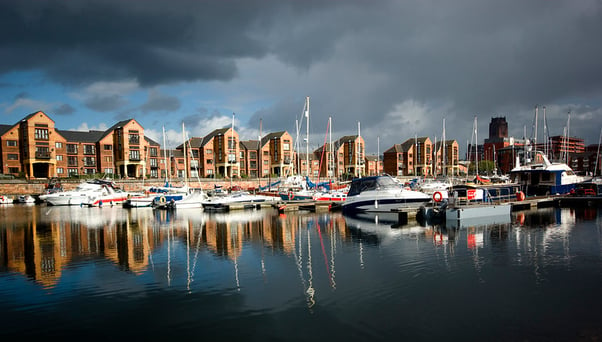 Source: lovestruck. - (CC BY-NC 2.0)
Home to our offices, Liverpool is a staple in marina life, the docks accumulate a number of places to visit during your boating trip here.
Located on the docs and only a short walk away is Tate Museum, first opened in 1897. The gallery holds a vast collection of art dating from 1500 to the present day. From traditionalists to impressionists to contemporary, there's something for everyone to enjoy here.
We can't mention Liverpool attractions without mentioning the M&S Bank Arena which hosts an array of events and live shows. Plan your trip in advance and secure tickets to see late-night shows for a number of diverse artists after spending the day exploring the city centre.
Opening just under 12 years ago, this leisure complex spreads across 42 acres of land and houses a number of well-known department stores. Here, you'll also find leisure facilities including the Odeon cinema and Junkyard Golf, or why not step out to enjoy the Liverpool One gardens?
Whitby Harbour, North Yorkshire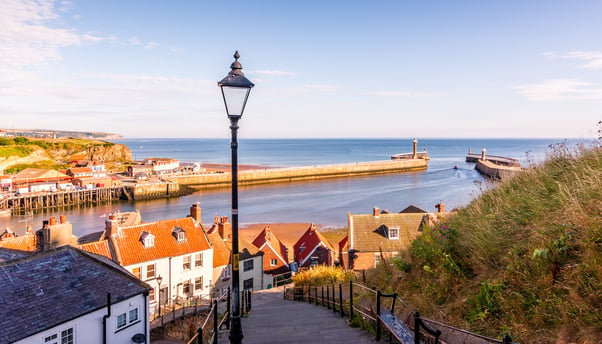 Source: Geir Hval - (CC BY-SA 4.0)
Welcome to North Yorkshire's best known seaside town, Whitby. Docking at Whitby Harbour will bring you into the centre of town life and plenty of nearby attractions to see. From the history surrounding Captain Cook to cliff lifts over the beach.
Whitby Abbey & 199 steps
The iconic Whitby Abbey can be accessed via 199 steps, and yes, it's exactly how it sounds. 199 separates you from viewing this medieval structure. It's a common challenge for the locals and visitors alike to attempt to climb these steps in one go. But don't worry, if you run out of breath along the way there are plenty of benches nearby to take a rest.

Did you know Whitby Abbey was actually the inspiration for Bram Stoker's classic novel Dracula? It's not hard to see why, this historic structure overlooks the North Sea and has been standing since the 7th century. Make sure you book your visit prior to arriving and discover all the intricate details about this abbey in the revamped museum.
Whitby Beach
A boating holiday wouldn't be complete without a visit to the local beach. Discover fun for the whole family with donkey rides for children, beach huts and stunning views across the pier from the lighthouse. Local restaurants line the beachfront, whilst the shores are ideal for any watersporting activities, as well as the local Fishing Museum to the west.
Whitby Yacht Club
We couldn't finish this list without mentioning Whitby's Yacht Club, founded in 1932. From April to October, you can meet like-minded boaters from across the country here and get involved with local sailing events and competitions. Make sure you join this welcoming and sociable group during your next visit.
Caernarfon Harbour, Wales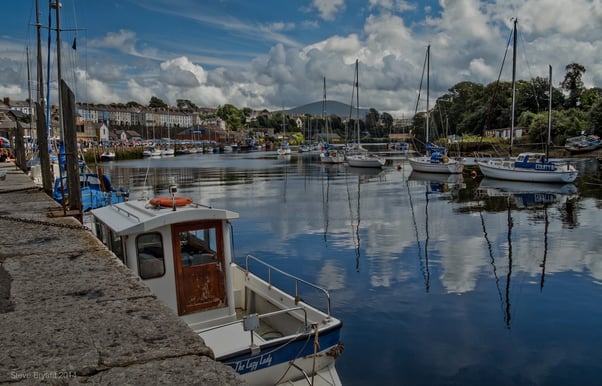 Source
If you're looking to take a trip to Welsh countryside, then look no further than Caernarfon Harbour. A prominent seaside town, there's a lot to see and do while visiting. A short sailing journey from there brings you to the Isle of Anglesey where a plethora of other sightseeing opportunities awaits.
This friendly local restaurant has been welcoming travellers since the 16th century. Here, you'll find locally sourced seasonal Welsh dining with a particular focus on seafood specials, a classic choice for marine enthusiasts.
Caernarfon Bay
Caernarfon Bay is an inlet of the Irish Sea and comes highly recommended for the local fishing scene. Often seen as an excellent spot for species hunting, spending the day cruising this bay aboard your vessel is a great way to get involved in the local culture.
Caernarfon Castle
Just a short walk away from the local marina, Caernarfon Castle dates back 700 years prior and is a castle like no other in Wales. Full of history, this medieval castle sits on the banks of the River Seiont and is well worth exploring during your visit.
Royal Quays Marina, North Shields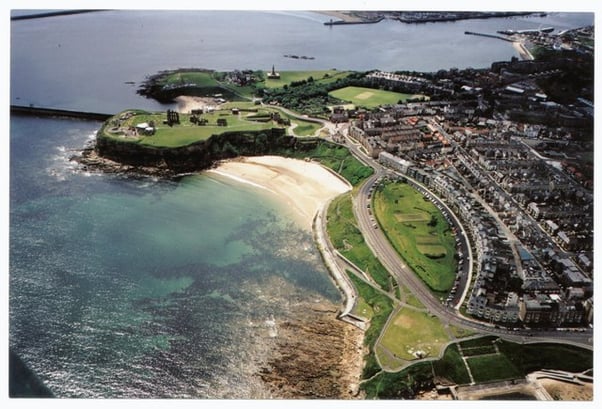 Source: John Watson - (CC BY-SA 2.0)
Discover the coastal town of North Shields, located on the north bank of the River Tyne and within easy reach of Tynemouth. An excellent spot to sail to when visiting the north of England.
Tynemouth Castle
Any history enthusiasts will enjoy visiting Tynemouth Priory and Castle which overlooks the North Sea and houses a wealth of historical stories which date back to the Iron Age. Here, you'll find the gun battery used to defend the Tyne during the First and Second World Wars, whilst benefiting from incredible views across the coastline.
Beaches
Choose between Sandhaven and Long Sands beaches for a fun afternoon out with the family. From sunbathing on the golden sands to surfing the waves, there's something for everyone to enjoy here. Long Sands beach is backed by low dunes and is particularly popular during the summer with surfers who come from all around to participate in the National Surfing Championships that have been held there in the past.
Theatre Royal
Take advantage of the local Theatre Royal and book tickets to see a show on your chosen day exploring this seaside town. With over 175 years of bringing culture and performances to the locals, this theatre is a must-see during your visit.
James Watt Dock Marina, Glasgow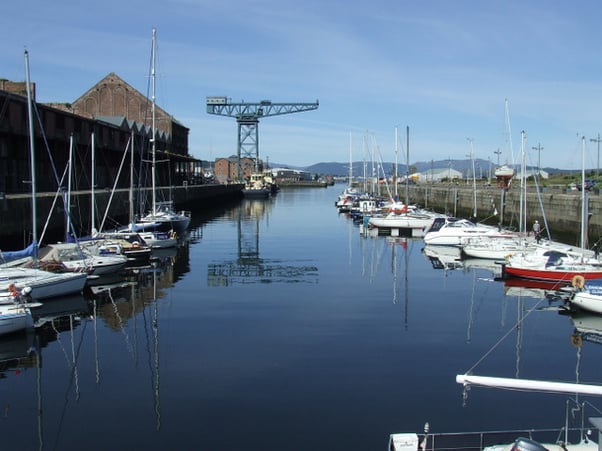 Source: Thomas Nugent - (CC BY-SA 2.0)
Let's head north! Our top choice for marinas in Scotland is the James Watt Dock Marina, located in Greenock and only a half-hour drive from Glasgow city centre.
Belville Community Garden
Belville Community Garden has been a registered charity since 2014 and is a great place for garden lovers to visit. You'll also discover a wide variety of vegetables grown and harvested here, with breathtaking views of the Clyde. The doors are open to the public for FREE throughout the year, so make sure you stop off when visiting Greenock.
McLean Museum and Art Gallery
Opened in 1876, this historic attraction forms part of the Watt Institution and benefits from a unique collection of works, including 300 Scottish paintings from notable artists throughout history and 430 oil paintings.
Greenock coastal walk
Not only can you get involved with town life, but a short distance away from this marina is a wealth of country land that is ideal for keen walkers and cyclists. Choose country or coastal and get exploring those stunning views across the Scottish countryside.


Are you a yacht owner who is struggling to decide on your ideal boating holiday destination? Take our Yacht Location Finder quiz and see where your next UK staycation should be!


Related Articles
Jul 26, 2022
Many people love life on the water, continuously cruising and exploring new places. However, moor...