Top Tips from our Narrowboat Expert
Why did you choose to custom build a narrowboat?
After several years of research, I had not found the boat I wanted and COVID-19 limitations prevented me from conducting an intensive viewing campaign. I had attended a number of boat shows, Crick probably being the most useful from a viewing aspect as I live in southern England, and was searching websites daily. I had been searching online for several years and realised that the years were passing me by. I had also had an early payout from a pension fund which provided me with a once in a lifetime shot at a new build.
What advice would you give to someone thinking about starting a self-build narrowboat?
Before deciding to buy or build, it is important to gather as much information as possible. I had almost twenty years of hiring and borrowing and was fortunate enough to have been able to carry out some marina surveys, a pro-bono survey of a charity narrowboat for insurers, as well as some quality time spent with professionals in the boat business. I had spent many hours cycling and walking the towpaths, and by lending a hand now and again at locks in exchange for snatched conversations, had engaged with quite a few boaters and owners. Some would even pull over and spare me some time and share knowledge.
Since taking delivery, I realised I had missed an important source in chandlers. I have received invaluable post-delivery advice from chandlers in Hanbury, Braunston and Uxbridge from generous characters who have lifetimes of experience. Perhaps most useful of all, the many boaters sharing their experience and knowledge on YouTube.
Once I had decided to build, the most important two decisions to be made was what I wanted and who would build it.
What did I want?

The intention was to build a cruiser, as self-sufficient as possible but not to live aboard, for the foreseeable future anyway. This meant a berth in a marina would be needed. Leaving a new build on the cut for weeks on end unoccupied would not be a secure option. This in itself is a decision that needs to be made early as possible since mooring in the marina of your choice may not be available. I was able to secure a berth where I wanted it, but the extended build time due to the COVID-19 pandemic meant it was paid for but vacant for several months. In my view, this was still preferable to having to leave the boat unattended in an unsecured location.



I wanted to be able to access as much of the network as possible which discounted a wide beam. It was also clear to me during my marina search that this would be a non-starter. Few marinas have the room, and those who do, obviously have to charge twice the cost of a narrowboat, which partly explained to me why so many of these giants are moored along the towpath, seemingly quite exposed. I opted for 60 feet, which may exclude me from sections of the network in the North West, but unlikely to be in my cruising range anyway. In the early days, I had spoken to a friend at River Canal Rescue and told him I want a wide beam and I want to cruise. "Simple" was the answer. "Buy two boats".

I wanted to be able to access rivers and decided on a slightly higher-powered engine and navigation lights. Family members' mobility and my own advancing years had me thinking to include a bow thruster. I had never used one on a narrowboat but I had experienced them on commercial ships. I have few regrets about the final spec, but the benefit of this has far exceeded my expectations. For a cruiser, it's a must-have in my view. As one hire company told me when I sheepishly returned a boat which had suffered an embarrassing knock in my early days of renting, 'Didn't anyone tell you it's a contact sport?' nonetheless, the thruster will extend the life of my paintwork considerably. I have only to get over the derision of narrowboat purists.

I had a long-standing hatred of fighting with caravan awnings and tent poles and turned my nose up at a pram cover. I did not want my clear interior cluttered with a ball of wet canvas and poles to trip over. I was talked into it and now realise how serious an omission it would have been. Also a must-have. I am so taken with the protection this gives that I have now ordered a tonneau cover for the foredeck. It stows neatly. The jury is out on the poles. They fold down but are of course vulnerable in tunnels and locks. I try and avoid clutter, so I can stow them inside or lay them flat on the cabin roof. I contacted the manufacturer to explore the idea of collapsible, foldable poles but was advised against as they would lose rigidity.

I took all the additional water and fuel capacity that was offered. Time will tell whether that was sensible or not, but this was based on sound advice for cruising.

Power generation was high on the advice list. Additional battery capacity, topped up with solar panels seems to provide more than I have needed so far. A washer/tumbler is obviously a huge drain but unlikely to be run unless on shore power or when the engine is running.

Internally, careful allocation of space was a priority. Outside living with comfortable space for guests pointed to a cruiser stern. That, and a decent bow space meant that 60 feet soon became 48 feet. Every inch of the interior was planned in detail, starting from forward with a reverse layout, a king-size bed with decent access and storage took a good chunk of linear length. The idea of a second guest bedroom was discarded on day one. A friend with a large seagoing powerboat lamented the space he'd sacrificed to provide a guest cabin which was largely unused. The builder proposed a walk-through bathroom giving space for a full-size shower and losing the cramped feel of a corridor taking up valuable width. Once the design had got as far as the aft end of the bathroom, attention turned to the kitchen. Working from aft, we would finish with the living area and have to take what was given.

The builders provided a wet-locker adjacent to the rear door as standard. This has a tendency to be the 'chuck everything else in' locker which needs careful management or we risk it becoming a junkyard. On the opposite side to this, the electrical cabinet with inverter and immersion heater meant the design was three feet in before the kitchen could start. This was extended from the builder's standard by an entire cabinet length on each side, partly to accommodate the washer/drier and partly to cater for the need for storage. I'd spent some time in the superyacht business and learned Golden Rule 1 - there is never enough storage space. The Chief Stewardess of a new build 100-metre yacht was complaining about storage space before they left the yard.

It became apparent that the dinette had to go. Instead, the worktop was extended by three feet to form a breakfast-bar layout with a pair of comfortable bar stools. Two folding stools kept in the back of a wardrobe provide seating for guests. The final measurement of the living space allowed for a custom-made futon sited comfortably in front of a bulkhead-mounted TV, which opens to provide a reasonably sized guest double bedroom. It was important to have this built and installed by the manufacturer. In this case, the manufacturer's website showed they understood narrowboats. As another experienced boater had told me, 'unless you want to cut a hole in the roof, don't buy any furniture you can't get through the door'.

Finally, I dispensed with a solid fuel burner. I have a solid fuel fire at home and wanted a break from carrying coal, firewood and ash in and out of the cabin. Personal choice of course, and probably essential for a live-aboard, but heating with gas or from the engine when running is adequate.

Who would build it? The same friendly expert, who advised buying two boats, gave me a shortlist. I'd spoken to enough owners to get a feel for the good, the bad and the ugly was pleased that this more or less tallied with his list - his personal view and not that of River Canal Rescue, I'd hasten to add.

Another valuable lesson learned was my insistence on adding a well-known builder whose shiny boats had often caught my eye at boat shows. He laughed and advised me to go and find out for myself. I emailed them. Twice. No reply. I rang three times. Each time I was told 'someone will call you back'. They didn't call or reply to any of my e-mails. On hearing this, my mentor suggested I imagine how they would respond to a warranty issue. List shortened by one.

I did not want the complication of having a separate builder to fitter but wanted a one-stop-shop. That solution is not to everyone's liking and there was no way on earth I would try and bodge my own fit-out. That shortened the list to two. Simplistic and naïve perhaps, but the builder who said yes to everything won the order.

Several visits to the builder's offices followed. Time was given generously and patiently. I would suggest unless the builder is actually interested in you, how you intend to use the boat and works out your likes and dislikes, then go somewhere else. The final spec was agreed and the build process began. A few changes mid-build were tolerated kindly but it is best to read the contract thoroughly and understand in full how it works. I had even run it past a legal friend. He had urged caution with changes once the contract was signed and to make absolutely certain that the price was fixed. I know of at least one builder who has sprung surprises on the client with an increased steel price hike.

The rest was painless. Weekly images of the hull in build and calls to clarify some of the more complex and unusual specifications were most reassuring.

There are no regrets to date. On the contrary, it exceeds expectations.

What do you wish you'd known prior to starting your custom narrowboat project?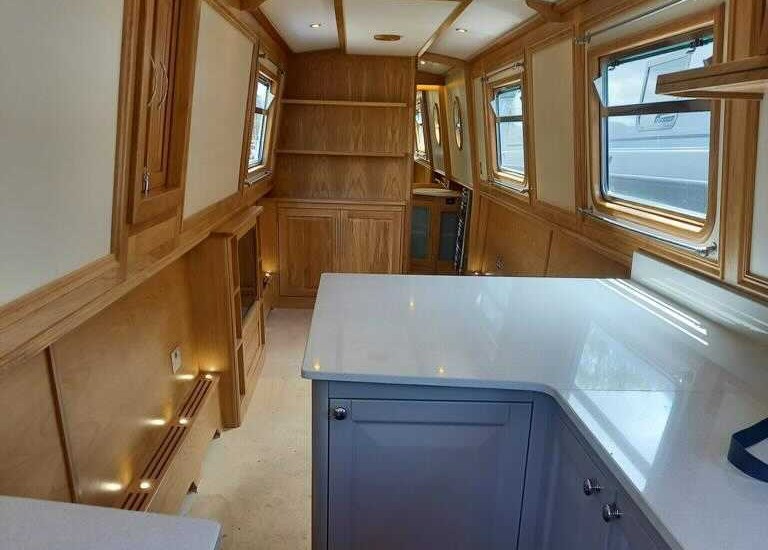 Source: GJW Direct
The COVID-19 pandemic was and is a tragedy in human terms, and the delay in delivery is nothing in comparison to the heartbreak and hardship this has caused. Had I known it was coming, would I have changed anything? I would have undoubtedly gone ahead anyway. There were snagging issues and some of significance which I suspect reflects on interruptions caused by the pandemic. These do not define the experience but reinforces the vital element which I had not considered. Ask owners. Visit chatrooms. Search social media. To paraphrase Bill Clinton "It's the warranty, Stupid". The builder has been unfailing in support and response. I believe this was sheer good luck on my part. Find out how the builder responds to warranty issues. Imagine if I'd persisted with chasing the shiny boat builder who never answers the phone? This would be a very different story.
When you spec'd your new boat what were the top priorities with regards to safety/functionality and comfort/convenience?
I have been involved with marine safety for my entire working life. This was always going to be paramount. Having the good fortune to be able to purchase a new build, and identify the builder's attitude to safety on day one, this was in the bank. Having said that, this is a second home and fire blankets and extinguishers bolted to bulkheads are an eyesore. I had the builder leave that to me. As long as everyone using the boat knows where they are - easily accessible inside locker doors – safety is not compromised in my view.
Manoeuvering and cruising is a priority, hence the bow thruster, navigation lights, additional battery capacity and engine upgrade.
The boat has to be comfortable. With easy access, plentiful storage (clutter-free) and a good bed. Given the English climate, there needs to be comfortable seating inside and out. May seem obvious, but I'm an outdoor person and happy in most weathers, but there will inevitably be days when the wind and rain is extreme even for me. On those days, there will need to be somewhere to sit which is not a rock-hard bar stool or having to lay on the bunk.
I will be working from home meaning good WiFi would be needed. This took some research to get the right deal and installation in a language a non-IT expert can understand. This was achieved with great success and even provided me with internet, TV and radio.
I have a medical need which requires a complicated arrangement of electrical power, pipes and tubes beside my bed. The builder went to great lengths to accommodate this, even making a cubby hole for an air pump.
What are the biggest challenges you've faced during this design process?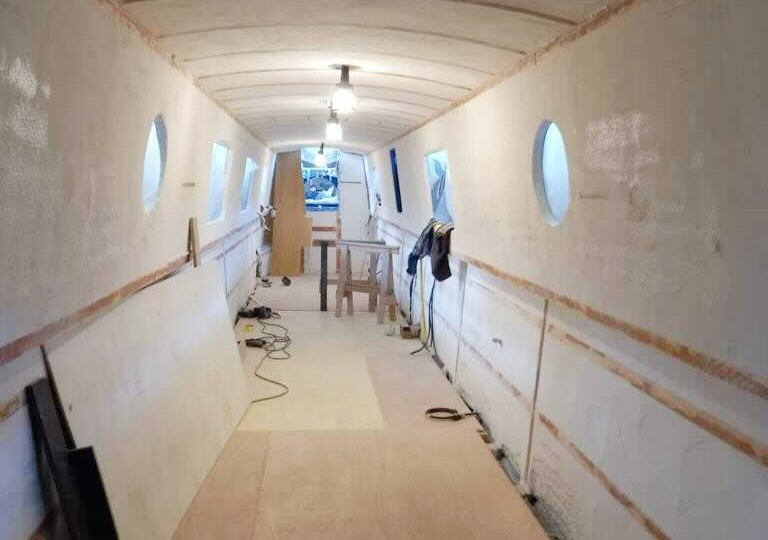 Source: GJW Direct
The biggest challenge was probably coming up with the specification. This is a once in a lifetime opportunity, and post-delivery changes were not likely to be affordable. That was worrying, but so far, no regrets. Selecting the builder was a challenge but as explained here, with good advice, plenty of research and good luck, this has also been trouble free.
Do you have a maintenance schedule in place and if so is this broken down to daily/weekly/monthly/yearly?
Interestingly, the builder provided a very comprehensive user manual but with no maintenance schedule per se. This is an area where good advice from other boaters, chandlers and boat engineers is absolutely vital - and with that thought in mind, probably explains why the builder leaves the owner to compile their own. The answer to 'daily/weekly/monthly/yearly?' is yes, if I want trouble free cruising and a boat which stays well-maintained.
What bucket list trips do you have planned for the winter and into 2022 and beyond?
For the winter, fairly local along Grand Union Canal and into London or north towards Braunston. Oxford Ring if time allows. Next year, North Wales, River Thames as far as navigable and a return to the Kennet and Avon Canal as far as Bristol.
When it comes to boat handling, do you have any top tips you can share?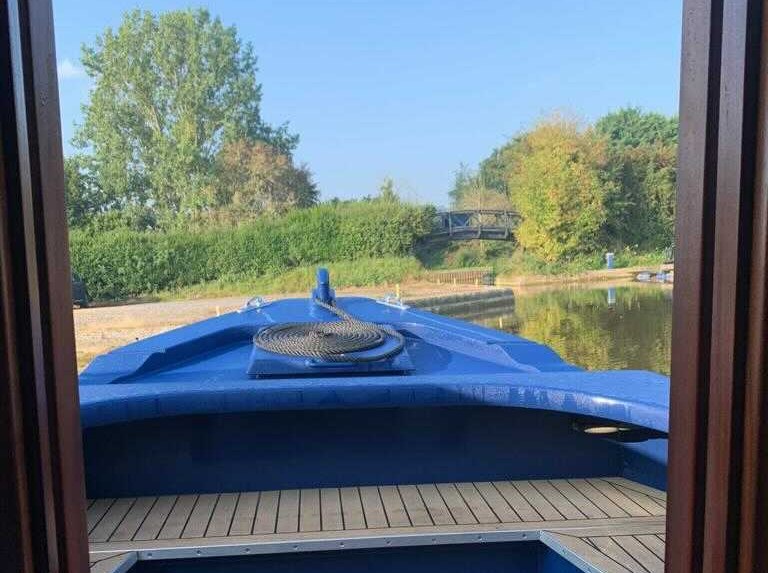 Source: GJW Direct
In a previous career, I sailed on a wide variety of commercial craft from tugs to large tankers. The nearest comparison I can make with driving a narrowboat is handling a supertanker.
Single rudder. Single engine. Underpowered. Steers like a pig. Absolutely no control of directions when going astern. Likes going sideways when there is more than a gentle breeze. When approaching any obstacle, lock or berth, you can never be moving too slowly.
It's a contact sport
You can never be moving too slowly passing moored boats.
Plan your manoeuvre, approach it slowly and be prepared to change it if a better opportunity arises.
Don't expect the response you need when going astern or in any wind which isn't exactly head on.
When passing oncoming boats it's quite polite if both slow down and both move to starboard.
Learn etiquette, particularly when approaching locks. If in doubt, assume the other guy goes first.
If you are in a hurry, moor up. Take a taxi.
Is there anything you wished you'd done differently?
Not differently, just earlier.
What are your top tips to those considering buying a narrowboat?
There are few notes I would add:
Why would anyone not join River Canal Rescue? Amazing organisation.
Shop around for insurance. Ask around - look at chat rooms. The golden rule is the cheapest insurance is always the best unless you are planning to claim. When you speak to insurers, ask yourself if they are interested in you and your boat or just your premium.
Get the right tools. No point in trying to get mattress wire or thick carpet off your propellor shaft with a breadknife. Or trying to use nutcrackers as a spanner.
Whoever invented the fishing magnet deserves a medal. Get one.
Lifejackets are not only for RCT employees and small children. Climbing ladders or crossing lock gates are a high-risk activity with deep water. One slip and a bang on the head would be a gamechanger without a self-inflating life preserver. And wear the right footwear. Climbing over lock gates in flip-flops is courting disaster.
Are you looking to save on running costs by performing boat maintenance yourself? Or are you looking for some tips and tricks? Discover our guide to Preparing Your Yacht For The Sailing Season here...
Source: Geoff Henson - (CC BY-ND 2.0
Related Articles
Jan 16, 2023
Enjoy your precious time out on the water, leisurely cruising, or permanently living. Canal boats...
Jul 26, 2022
"If I want to enjoy racing, do I have to spend a lot of money on a new boat and join an arms race...
Topics- Events, GJW Direct, Yacht, Boat Shows, Classic Boats, yacht clubs, uk, South Coast, Sailing Yacht, Sponsorship, Yacht Racing