Essential safety equipment for your PWC
There's no feeling quite like taking your jet ski out on the water, the sense of freedom and excitement that comes with it makes it the ideal sport for any thrill-seeker. Heading out to sea is a never-ending exploration with so much to discover, however if you misjudge weather or fail to prepare properly, you could find yourself in a very dangerous situation.

There are plenty of ways for you to keep yourself safe whilst jet skiing in the UK, the one key rule to stick by is have all the necessary safety equipment. Here's our guide to the PWC safety essentials you need…
Personal Flotation Device (PFD)
Whichever PFD you choose, it's important you have the perfect fit. For adults, it's measured by chest size, for children it's determined one their weight.
Protective goggles won't just keep salt water from entering the eye (which can sting!) but also ensure that your vision is clear during your ride.
Kill cords can become damaged over time so it's vital you always carry a spare. We advise checking the wear of your kill cord before every outing and be sure to replace it if necessary.
Carry a form of communication at all times
Regardless of whether you're on your own or not, a form of communication could end up being your lifeline. If for any reason you end up on your own in a dangerous situation, you'll be able to tell someone where you are, directing them where to go in order to find you.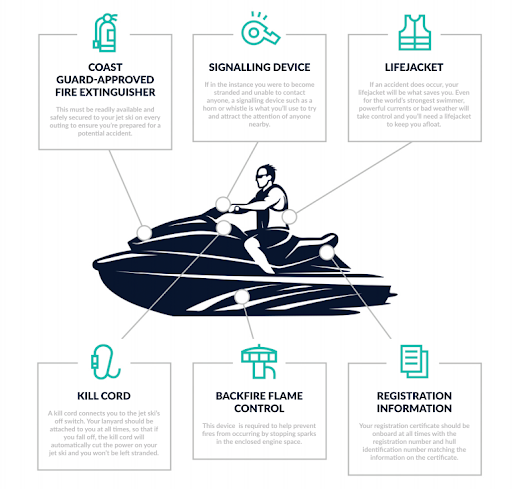 Source: GJW
A pen knife is a great tool to have on you in any emergency, but if you get swept away and caught in netting, you'll be especially grateful for having a knife to cut yourself free!
Having all of the correct safety gear is key but there are other checks you can do to ensure you're safe whilst out on the water, including:
For a similar reason, always inform someone of where you're going and when to be expected back - if you're not back by that specific time, they can head out looking for you.
Being out on the water causes you to lose heat fairly quickly so ensure you're prepared with a warm hat as well as gloves to give you a firm grip on the handlebars. It's also a good idea to wear shoes that have a strong grip to keep you secure on slippery surfaces.
Always pre-check weather and current conditions
Never go out on your PWC without checking the weather and current conditions first, this will enable you to prepare appropriately. Read more about understanding marine forecasts.
Insurance for your PWC is a must but it's important you take the time to choose which is best for you. You want to be sure your policy covers you for your specific use of the jet ski, for full details read more about PWC insurance here.
Sign up to our free digital boat management system and safety equipment reminder service - MyBoat. You can set up your boat profiles, submit important documentation, customise reminders and discover the latest boating news.
Related Articles
Jul 1, 2019
Haven't taken out jet ski insurance yet? Our buyer's guide will walk you through all of the diffe...
Jun 30, 2019
Whilst the market for personal watercraft (PWCs) has grown massively in recent years, there are a...
Jun 23, 2019
Considering buying a jet ski? Or already own one and want to know more? Here's a couple of freque...