Best Boat Events to Add to Your Calendar 2018/19
Throughout the course of the year, the UK's waters play host to all sorts of events and activities, from festivals to boat shows, there's a whole host of days out perfect for those who love to get out on the water. Here are a few of the best boat events to add to your calendar in 2018/19…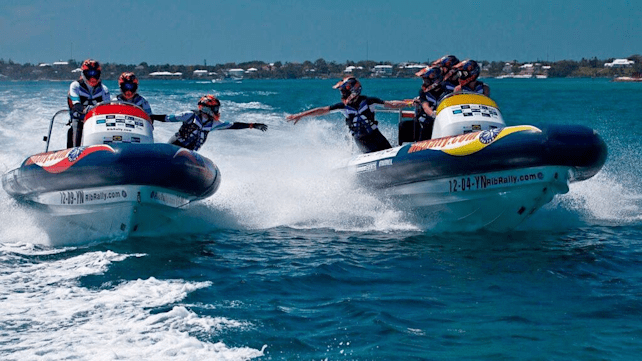 Source
Thames RIB Blast & RIB Treasure Hunt - all year round
The RIB Blast and RIB Treasure Hunts are hugely popular events. With no speed limits applying to you on large stretches of the Thames, you can make full use of the breathtaking speed and performance of your RIB. The even includes either a tour or Treasure Hunt through central London and then a blast down past the Thames Barrier where there's sufficient space to demonstrate the amazing handling of RIBS. Find out more here.
Bristol Harbour Festival - 20th-22nd July 2018
The Bristol Harbour Festival is free for all and brings over 25,000 people together each summer to celebrate a rich maritime history and enjoy some of the city's best music and entertainment. From the SS Great Britain all the way into the heart of Bristol, tall ships, music stages, dance areas, food markets, water display teams and circus acts combine to ensure that everywhere you turn, there's something to delight and entertain. Find more here.
Southampton Boat Show - 14th-23rd September 2018
Southampton Boat Show is a spectacular world class annual event held in September and attracts visitors, exhibitors and investors from all over the world. It's one of Southampton's biggest events and takes over the city for a 10 day period, with people of all walks of life discovering the latest marine industry offerings. The Southampton Boat offers a fun-filled day out for boaters, traders and the whole family. Visitors are invited to walk the 300 berth purpose built marina and join the hundreds of boats, exhibitors and visitors in Solent Park and Mayflower Park for the biggest boating festival of the year!
Easdale RIB Rendezvous - early June 2019
Easdale RIB Rendezvous is an annual meetup of RIB enthusiasts who bring along their boats to explore the West Coast of Scotland, based near Easdale Island. It's one of the most stunning areas in the UK for boaters due to the fantastic scenery, myriad islands, pristine waters and amazing wildlife. RIBers from all over the UK meet on Easdale Island, 25 south of the bustling town of Oban for a weekend of hardcore boating with good food and entertainment provided on the island on the Saturday night! Check out their website to book for 2019.
Northern Boat Show - 31st May-2nd June 2019
The Northern Boat Show is a festival of boating at the heart of the Mersey River Festival. The boat show will cover the offshore and inland markets with the latest sailing, canal, RIBs and power boats in the Albert and Salthouse Docks, and a land-based exhibition alongside on Salthouse and Canning Dock Quayside. There are between 100 and 500 exhibitors and thousands from across the UK attend the Northern Boat Show each year. So whether you've never been on the water before or you're an experienced skipper, there's something for everyone! The show is free to all but visitors should pre-register for pontoon tickets to gain exclusive access to the boats displayed on the pontoon. Find more here.
Related Articles
Jul 26, 2022
"If I want to enjoy racing, do I have to spend a lot of money on a new boat and join an arms race...
Topics- Events, GJW Direct, Yacht, Boat Shows, Classic Boats, yacht clubs, uk, South Coast, Sailing Yacht, Sponsorship, Yacht Racing
Feb 15, 2022
With the world slowly coming back to normality and many racing events returning, we wanted to hig...
Oct 7, 2019
If you're into your sailing events, then you'll want to make sure you check out our 2019/2020 cal...