4 Ways to Customise a Used Boat
Buying a new boat can be pricey, especially when it comes to customising it to your needs. That's why buying a used boat is an excellent option for saving money, whilst freeing up some funds to personalise your vessel. But how exactly do you go about customising a second hand boat? We're here to help...
Layout


When purchasing a used boat, it's important to consider the interior layout of your boat. What are you most likely to use your vessel for? Whether you're living onboard or using it purely for recreational use, you'll still need to decide on the layout and the best refurbishment options.
One of the most exciting parts of purchasing a boat is the creativity that comes with updating the furnishings to suit your artistic vision. Particularly when it comes to the larger type of vessel such as narrowboats, yachts and motor cruisers.
Consider the type of vendor you're buying from. If you love to fish, it might be worth considering purchasing from a like minded seller, even if they're further away because their vessel might have the fixtures and fittings you'll most likely need.
Personalisation
There's nothing better than adding a splash of colour to your vessel. This is where you can really add your personality to your boat, whether that be opting for a bright colour scheme or choosing a classic and elegant white. We'd also advise sticking to one or two colours when painting your vessel as the paintwork can be easily damaged and any special designs could be ruined; this also helps save time when having to touch up the paintwork. Antifouling paint will help prevent marine growth from sticking to the underside of your boat. You'll also see better performance from this and a longer hull life.
Beyond this, renaming the boat is a sure-fire way to put your own stamp on it. Check out the list of some of punniest narrowboat names we've seen that might spark your creative juices.
Accessories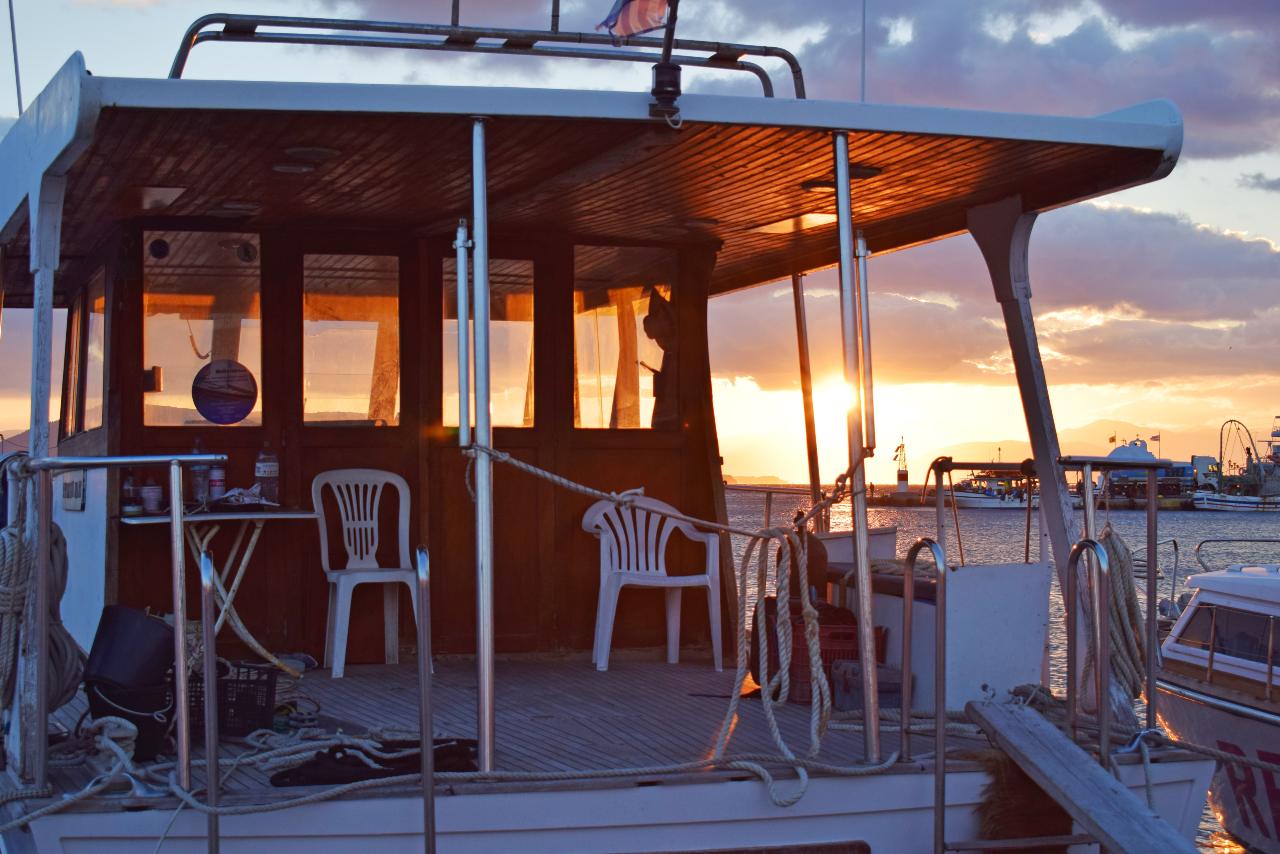 Source
When it comes to customising a used boat, you want to make it feel like a second home. Adding systems like a chart plotter or stereo is beneficial for both navigation and entertainment. Another accessory to think about adding could be an awning, perfect for the summer months where family and friends can gather for a river cruise.
Recreational


It might be beneficial to add a rod mount to your vessel if you're a keen fisherman. Keep a selection of diving equipment onboard for those spare of the moment journeys; include safety features such as VHF radio and flares. Also an essential part of the kit would be the 'SafeTrx' app for emergencies. Make your journeys memorable with luxury items such as inflatable towable toys, water skis or wakeboards.
Lights


If you know you'll be using your vessel at night, you'll need to make sure you have running lights in place so other boats on the water will be able to see you. Beyond this, you can choose the style, shape and overall design that you like best.
Mooring
If you have a permanent mooring spot at one of the UK's top marinas or waterside mooring with the Canal & River Trust, you may be able to customise the area surrounding your mooring spot. Include an outdoor seating area where friends and family can gather for afternoon tea or a delicious dinner together. This could even be used as a spot for sunbathing and enjoying the coastal views.
Something that's particularly effective if you're planning to purchase a narrowboat or a similar vessel is decorating the roof and deck with a selection of evergreen plants and flowers. They'll last through all seasons and they add a fresh and vibrant look to your boat. Check out our guide to narrowboat gardening for further tips and tricks.
Want a helping hand choosing your next vessel? See our Buyer's Guide to a Second Hand Boat Purchase for useful tips and advice.
Header Image Source
Related Articles
Jul 26, 2022
"If I want to enjoy racing, do I have to spend a lot of money on a new boat and join an arms race...
Topics- Events, GJW Direct, Yacht, Boat Shows, Classic Boats, yacht clubs, uk, South Coast, Sailing Yacht, Sponsorship, Yacht Racing
Jun 10, 2022
Thanks to modern technology, we've mastered the ability to access any source of information via o...